Appointments System
GP clinic times vary from day to day.
We are able to offer routine doctor appointments 4 weeks ahead along with a daily morning/afternoon appointment release system offering appointments 24/48 hours ahead.
The appointment interval for doctors is 10 minutes. Iif you feel you may need longer, i.e. to discuss a number of problems, please ask the receptionist for a longer allocation.
Emergency appointments with the doctor or nurse practitioner are available same day by contacting the surgery at 08:00.
Nursing and phlebotomy appointments are available 4 weeks ahead.
The Practice also offers alternate Monday & Thursday evening clinics.
We are closed on Bank Holidays.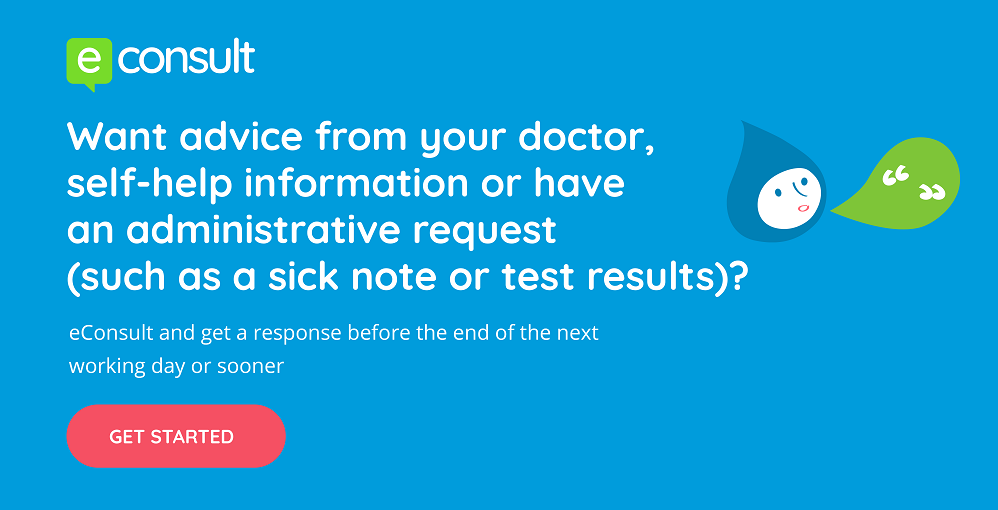 Book an Appointment Online
We offer an online appointment booking service for our patients and you can access this using the link above.
Before you can use this service you will need to come to the practice to register with a form of photo ID (i.e. passport or photocard driving licence). You will be given details on how to log in and register for this service.
We can offer this booking online service to anyone aged over 13 years of age.
Active Signposting
We have introduced a new system when booking your appointment and this is called Active Signposting. We hope this will ensure that you all have access to the most appropriate clinician and care when needed.
When you telephone for an appointment our trained reception staff may ask you for some brief details of why you are calling. This will ensure you are offered an appointment with the most appropriate member of the team.
Home Visits
Home visits are available only where it makes clinical sense and provides the best way to give a medical opinion e.g. if you are bed bound and travel by car would cause a deterioration in your medical condition or unacceptable discomfort, or if you are terminally ill.
Logistical problems with arranging transport to get to the surgery is unfortunately not a reason to request a home visit.
If you need a visit please telephone the surgery before 10am. This will give us an opportunity to plan our work.
Hospital Referrals
When a referral to a hospital is made changes have been designed to support doctors in delivering high quality, evidence based care whilst maximising efficient use of precious NHS resources.
The document below indicates what happens if your GP thinks you need to see a specialist.
Extended Access
Need to see a GP or nurse?
Did you know there are appointments available on weekends and evenings for all patients in Hartlepool and Stockton-on-Tees?
Extended hours GP and nurse appointments are available at the following centres:
Monday - Friday, 6.30pm - 8.00pm at:
Chadwick Practice, One Life, Park Road, Hartlepool, TS24 7PW
Tennant Street Medical Practice, Stockton-on-Tees, TS18 2AT
Woodbridge Practice, 30 Myton Road, Ingleby Barwick, TS17 0WG
Saturday:
Chadwick Practice, One Life 10.00am – 1.00pm
Tennant Street Medical Practice 10.00am – 1.00pm
Woodbridge Practice 2.00pm – 5.00pm
Sunday:
Chadwick Practice, One Life 11.00am – 1.00pm
Tennant Street Medical Practice 11.00am – 1.00pm
Woodbridge Practice 2.00pm – 4.00pm
You can make an appointment via your own GP practice or by calling NHS 111
Cancel an Appointment
It is important that you inform the reception staff if you are unable to attend your appointment, this will allow that appointment to be offered to another patient. If you fail to notify the Practice that you are unable to attend, you will be sent a letter informing you that you have defaulted from your appointment. Persistent defaulters maybe removed from the list.
You can also complete our appointment cancellation notification request form. This can only be used if your appointment has been arranged for more than 24 hours in advance. (excluding weekends and public holidays). You can also text to cancel your appointment.
GP Training
The practice is an approved training practice for the training of General Practice registrars. Dr Waterhouse is the accredited GP trainer and Dr Salvati will also be a trainer from 2019.
GP Registrars are qualified doctors who have worked in hospitals for at least 3 years and now have chosen general practice as their career. Each Registrar comes to Eaglescliffe for 6 or 12 months of their GP training, they are closely supervised and undergo a series of assessments and exams. In order to assess their consulting skills, the registrar has to video some consultations and be observed in some consultations by their trainer. You will be asked permission beforehand and sign a video consent form, the recording is solely used for educational purposes and only watched by the GP registrar and their trainer. Similarly sometimes the trainer will be sitting in the surgery observing.